Read Time:
4 Minute, 38 Second
Art comes in all shapes, styles, colors, and sizes, and Shawn Bowers surely makes some unique art. Starting from Kansas City, he has become an author, illustrator and is the Creative Director at Jellyvision. His popularity on Twitter and Instagram has brought his quirky and wonderful art and writing to a wide audience. Check out his art, comics, and website in the links below! Now, onto the interview:
Garfield is clearly a large part of your artistic life, when and how were you introduced to that fat cat?
I was one of those comic strip kids, where my preferred version of "reading" early on was the latest FoxTrot collection or Garfield Fat Cat 3 pack. I was into Dilbert as a kid too, which I'm thankful didn't radicalize me the same way it apparently did Scott Adams. I was born in '85, so Garfield had already fully osmosis'd into the public consciousness by then with all the merch and licensing deals. I truly believe every American child had at least two Garfield items, and never the same two. Mine were a Garfield nail scrubbing brush, and a Garfield alarm clock
You mentioned in your blog that drawing Garfield was kind of a joke, can you elaborate a little bit more?
I mean, let's be real…nobody dreams of being labeled a "Garfield artist." BUT it's always been an interesting challenge trying to find new things to do with such a limited point of inspiration. And I think the Internet has proven time and time again that Garfield can be a great foundation for weird, abstract creative projects: Garfield Minus Garfield, Lasagna Cat, Garfbert…to the more recent "I'm Sorry Jon" subreddit full of unspeakable horrors. It's all a joke, but hey…jokes are fun sometimes?
View fullsize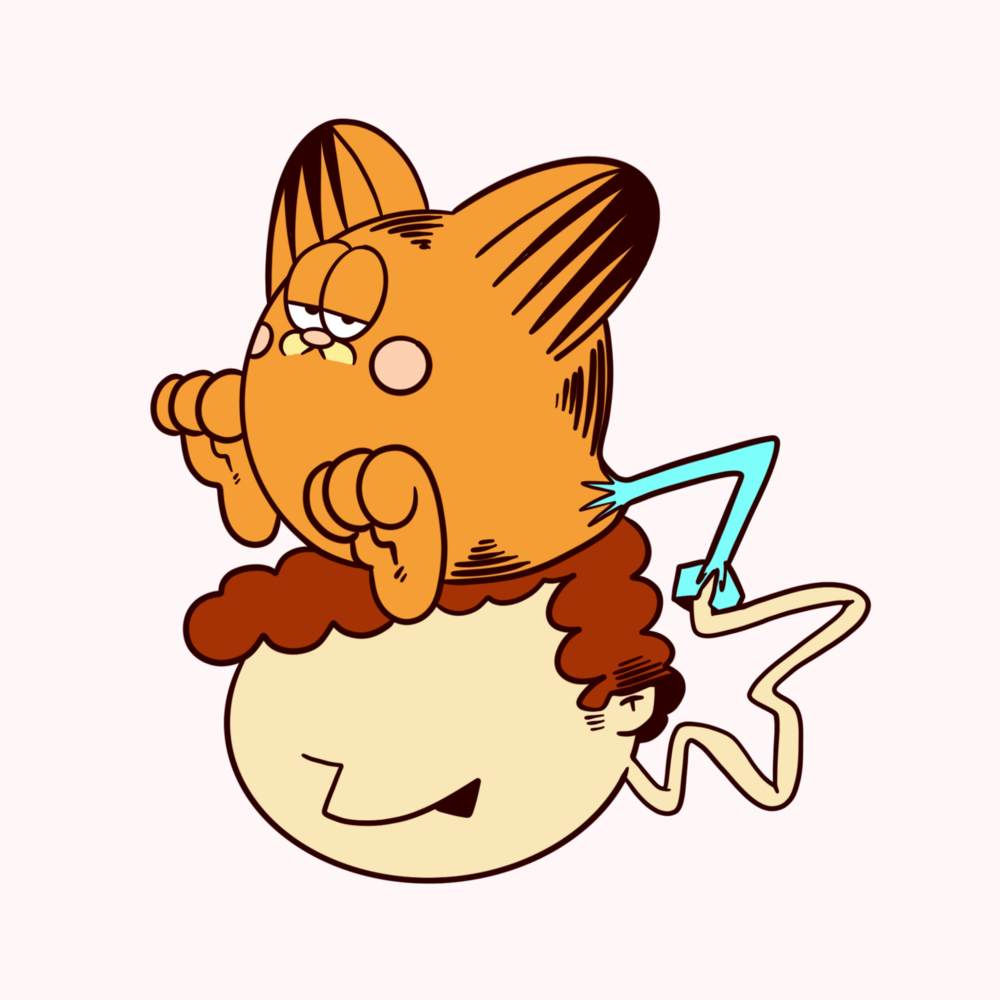 View fullsize
View fullsize
Over the years, have you ever gotten tired of that orange face? What gives you the steam to get back into drawing Garfield themed stuff?
I go back to Garfield stuff when I get stuck in a rut on other things. Helps me shake off the cobwebs, work with some familiar elements and feel more free to explore new styles or formats. Half the battle of making new stuff is just staying in the habit of making ANY stuff, so it serves that purpose sometimes.
Your Garfield themed Pokémon is some of your more popular stuff. You're getting into the third generation, do you think you'll ever stop?
I pray I'm one day allowed to stop, yes.
The third generation of Pokémon is starting to have some weird shapes and styles, like Hariyama. What is your process of designing those Pokémon with Garfield things?
It's very kind of you to assume there's a "process." I try to just think as little as possible and look for familiar shapes. The rule is that the basic monster needs to be Garfield-based, but then I can add bits and pieces from any other Garfield-adjacent character to flesh it out. "Found materials," as it were.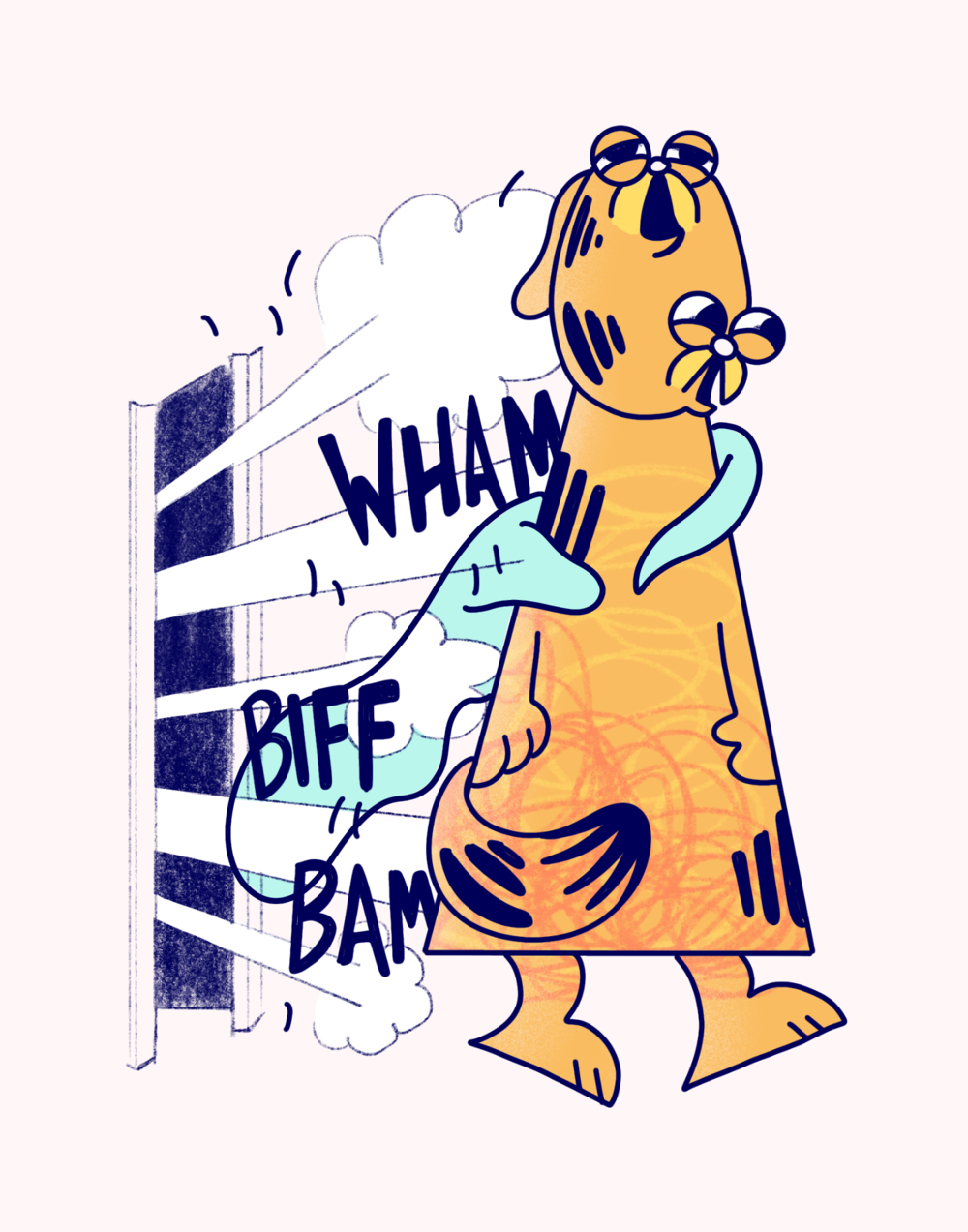 Along with the lasagna loving feline, you also do McDonald's, Power Rangers, Marvel, Dilbert, Simpsons and more. What is your daily art routine and how do you pick your subjects?
I ebb and flow…my routine isn't always daily, alas, but I try to draw or write or code or make SOMEthing every day, to varying degrees of success. As for my subjects…I think I'm what you call "basic," so my tastes lean towards mainstream pop culture stuff. Like the Garfield stuff, it's fun to work with characters everybody already knows and then add your own lil thing on top.
When you were younger, did you also do drawing/paintings like these?
Oh yeah. I learned to draw by copying X-Men comics and all that stuff. I'm pretty sure I'm literally just drawing the same stuff now that I was drawing when I was a kid.
You've also clearly done some art schooling, did your professors/teachers love or hate your art?
I didn't do any art school! That would have been fun. I actually didn't draw for a very very long time…I was more focused on writing and performing and stuff like that. A few years ago I picked it up again and discovered it made me feel happier and way less frustrated than writing was making me feel.
The last question we have for you is an easy one, but we'd love to know. Do you have any plans for a full comic book or physical collection of your various comics or art pieces?
Good question. I do an occasional comic strip called Miss Shoes that I'm working on in the background, trying to come up with enough strips to make my own version of the old comic strip collections I loved. But my focus for the past year or so has mostly been on writing and illustrating picture books and trying to find homes for a few of those original stories. I have an almost-3-year-old, so I've gained a great appreciation for the world of children's book creators…but truly, they're everything I want my work to be: short, funny, colorful, and allowed to be a little stupid. If any children's book agents or publishers are reading this, I promise that none of my stories are about orange cats. Yet.
We want to thank Shawn Bowers for his time and for sharing his talent with us! Check him out here:
Etsy