Read Time:
2 Minute, 25 Second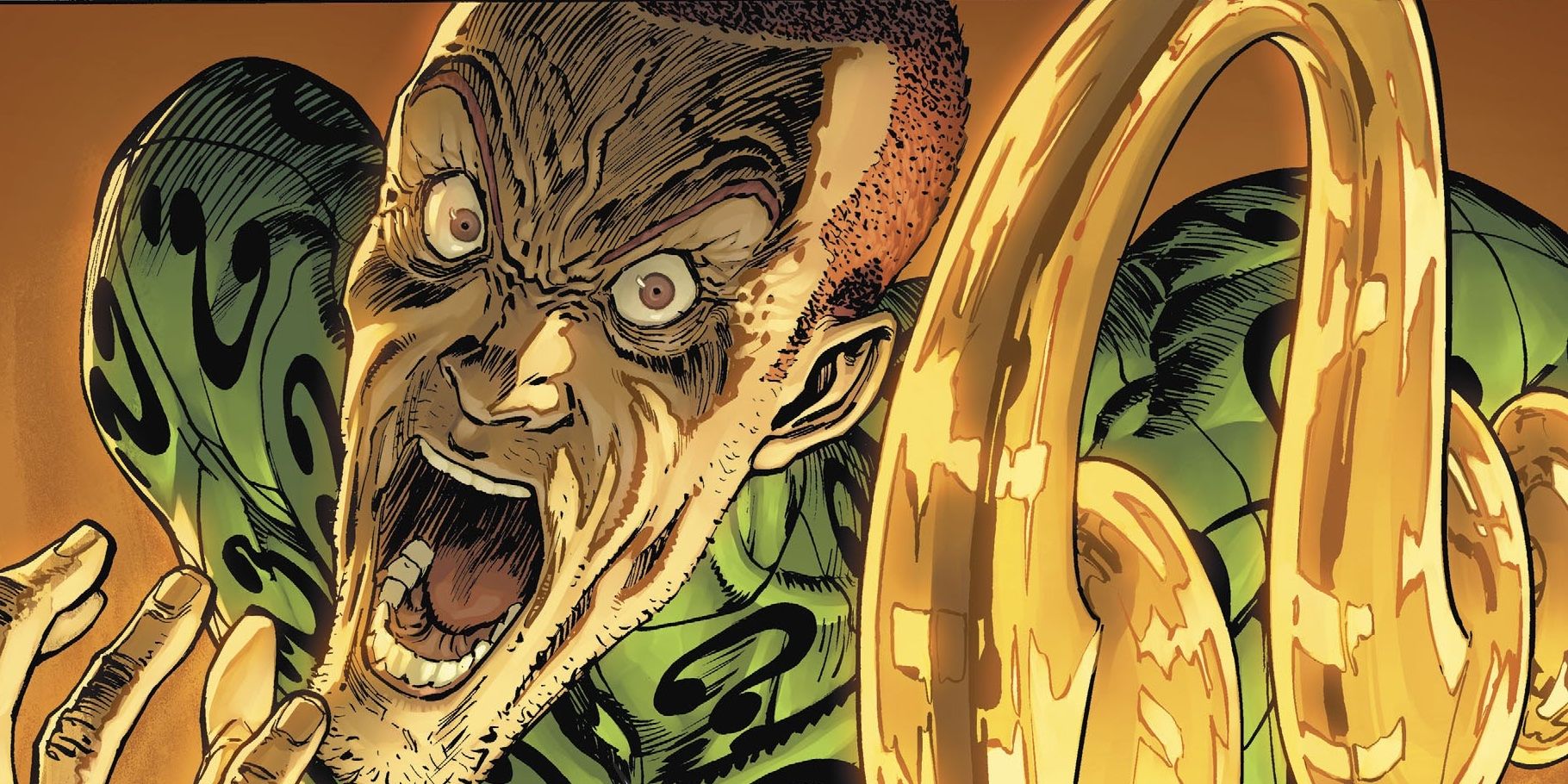 Warning: spoilers ahead for Batman #98!
Many Batman fans know that the Riddler loves to challenge his victims with riddles and puzzles meant to test their intellectual prowess. However, he has long seen the Dark Knight as his greatest opponent, obsessed with trying to find a way to prove once and for all that he is Batman's intellectual superior. It's true that Riddler loves his riddles and puzzles, but as James Tynion IV's Batman #98 shows, he hates games and getting played himself.
Throughout the Joker War, Riddler is is the same situation as a lot of Gotham's rogues: hiding in Penguin's locked-down secret bunker/lounge, waiting out the the inevitable destruction and chaos of Joker's onslaught while avoiding being caught in the crossfire. After her injuries at the hands of Punchline, Penguin rescued Catwoman and brought her here, where she's been since, though she'd rather leave to assist Batman in his fight against Joker.
Related: The Batman Fan Poster Recreates Dark Knight's Joker With Riddler
At the beginning of Batman #98, Riddler is playing a game of chess with none other than Jonathan Crane, the Scarecrow. It's Riddler's turn, and he's taking forever to make his next move, seeking to analyze every possible outcome to achieve victory. Losing patience with his opponent's scrutiny, Scarecrow begins to toy with Nygma, attempting to get into his mind and play upon his fears.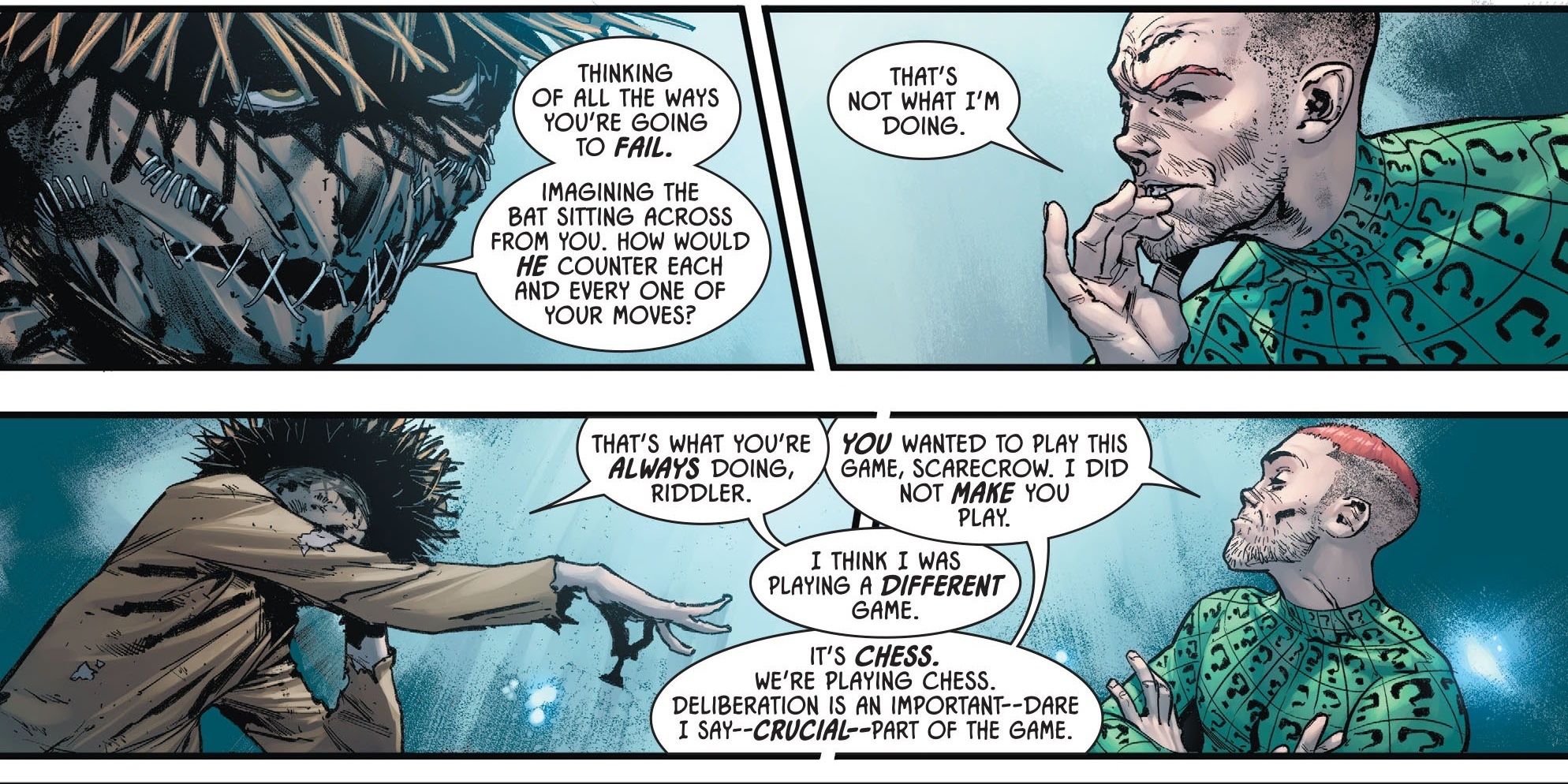 When Scarecrow claims that he's no longer playing chess, and is instead playing Riddler, Nygma loses his mind, flipping the board over and diving to brawl with Crane. Obviously, the close quarters nature of Penguin's sanctuary is starting to get to Edward, and he can no longer tolerate the villainous company. Penguin, for his part, cares little about the infighting, simple making the remark that he wishes bets had been placed on how soon Riddler was going to flip the board.
It's a small moment, but it's one that shows that Riddler's tricks are never actually about testing the skill of his opponent, but rather about remaining in control. Riddler accepts his superior intellect as fact, which means that any challenge isn't just something to overcome, but rather something that gets at the foundation of who Riddler is – even how he believes the world works. This is Riddler's true weakness – that he's not in control of how he reacts to opposition. It's a detail that goes a long way to making it clear why Riddler will never be able to stop trying to defeat Batman, and also that he's not going to be able to stay cooped up with other super geniuses much longer. A fist fight is one thing, but if the Joker War doesn't end soon, Penguin might find that Riddler turns into as much of a problem as the war outside.
Next: Waze Adds Batman and The Riddler's Voices To Service