Read Time:
2 Minute, 17 Second
Animal Crossing: New Horizons' September seasonal item is here, and as per usual it will only be available for a month. New Horizons has had seasonal items that could be ordered from the catalog ever since May, starting with the Thank-You Mom mug.
The start of autumn in Animal Crossing: New Horizons has provided an assortment of new collectables to gather. Every season has a certain material that can only be gathered for the months in the season, with the summer shells and young spring bamboo for the previous seasons. Players are now able to gather up acorns and pine cones from trees, and the fall DIYs that they can be used on can be found in Balloons. September has also brought all sorts of new bugs and fish, such as the Salmon and King Salmon, which only last for this month.
Related: Animal Crossing Meets The Legend Of Zelda In This Hyrule Dream Island
From September 7th to October 7th, players can order the moon rug from the seasonal section of the catalog, as NintendoLife reports. The moon rug is just that – a rug in the image of a moon – and it goes well with the already existing space furniture series. This is in celebration of moon viewing day, which is a Japanese holiday in order to celebrate the full moon being viewable in autumn. Another seasonal item available to order is the grape harvest basket, which celebrates grape festivals in Spain, Italy, France, and Germany.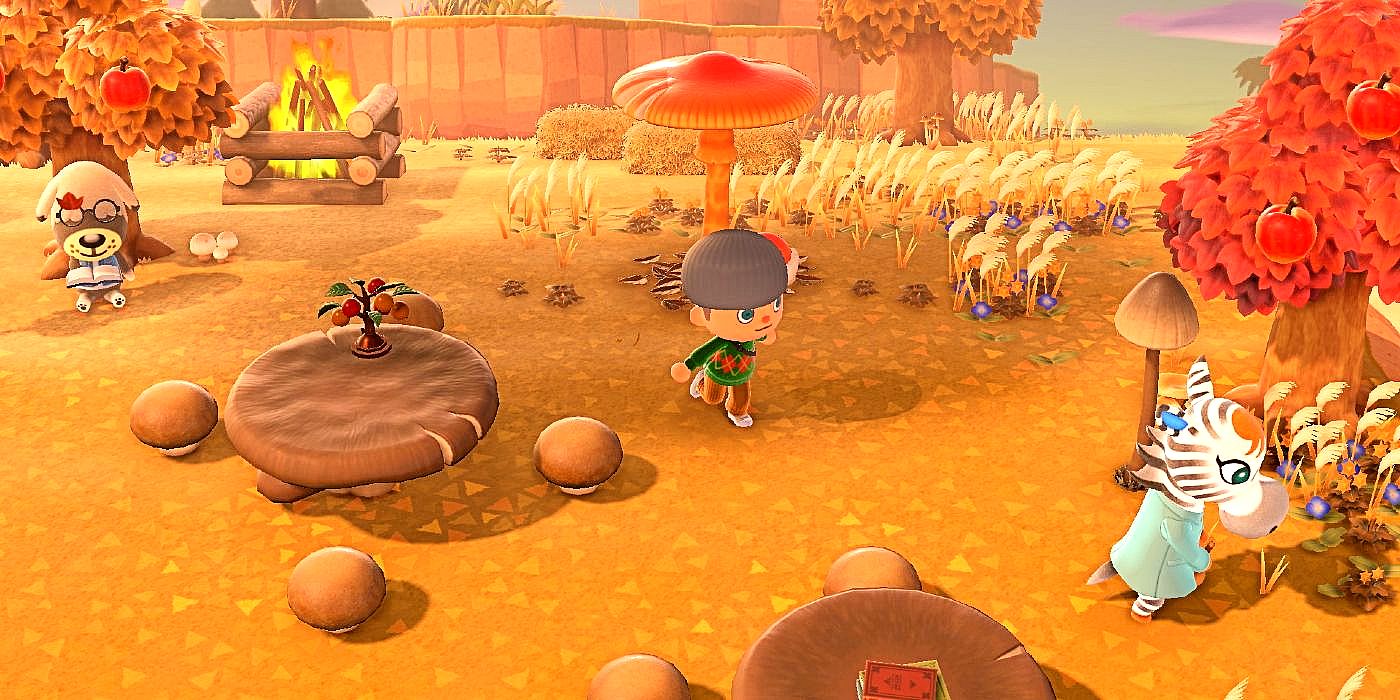 The moon rug and grape harvest basket cost 2,000 bells and 800 bells respectively, making them very cheap and easy to purchase. Should players want to purchase a select quantity of these items though, they will have to deal with only being able to order five items a day through the Nook catalog. But, being that there's a whole month to purchase these items, it gives plenty of time to order as many as needed. Players can also send them as gifts to others, should they want to get them in on the festivities.
These items are a good way to start off the fall season, and this is only the beginning. With the Halloween update coming sometime in fall and players already making wishlists for what they want to see, the spooky surprises the next update will bring is sure to delight players. Jack will soon make his return in Animal Crossing: New Horizons, and with him he surely will bring all sorts of new decor for players to decorate their islands and houses with. In the meantime, players can enjoy their new moon rugs in Animal Crossing: New Horizons.
Next: How Animal Crossing's Most Annoying Feature Could Be Fixed
Source: NintendoLife