Read Time:
2 Minute, 28 Second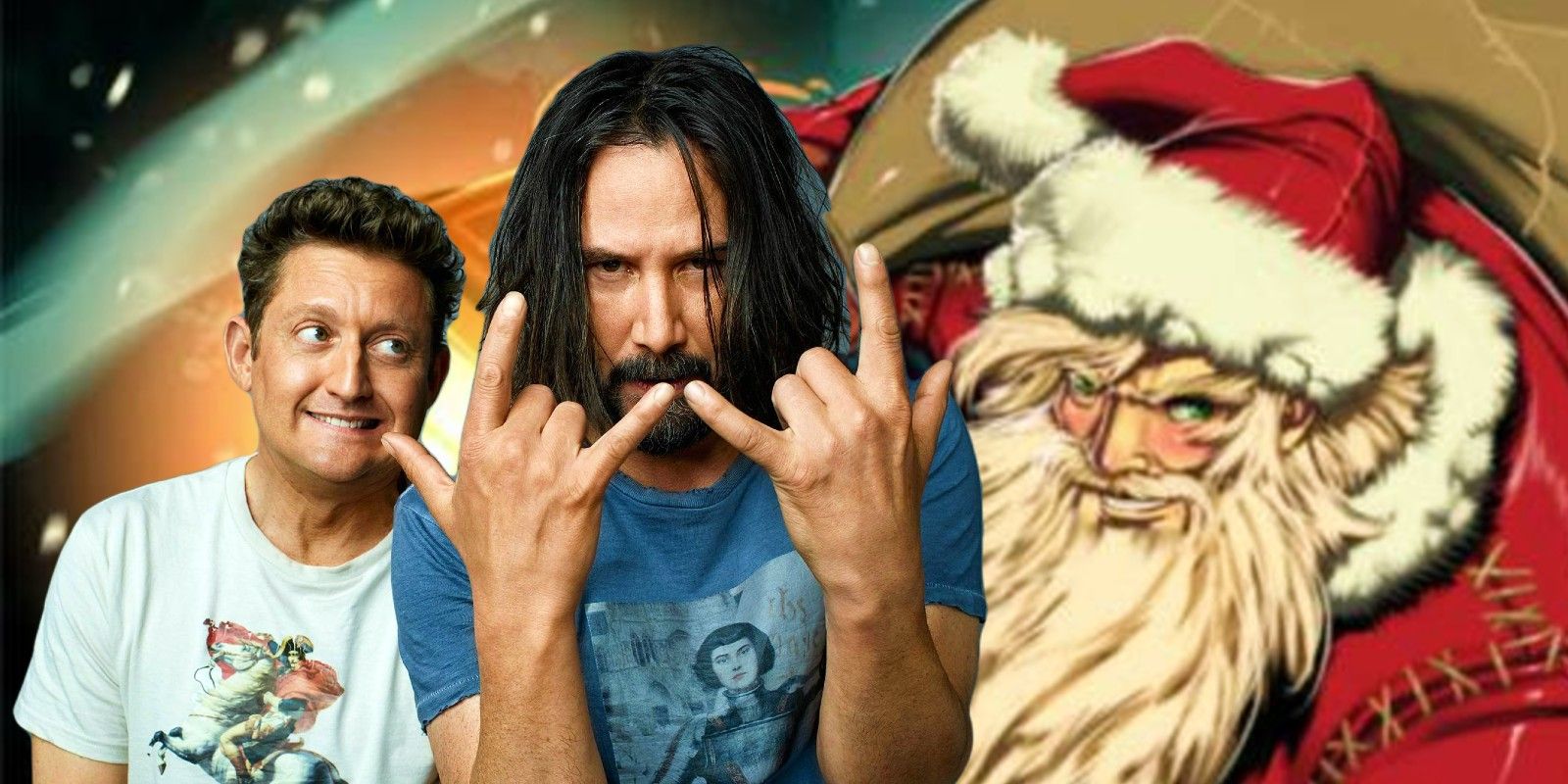 Ed Solomon, co-writer on Bill and Ted Face The Music, reveals an alternate ending that included the stars playing air guitar with Santa. The franchise, which was co-created by Solomon, along with fellow writer Chris Matheson, just released its long-awaited third and final entry, which re-teams Alex Winter and Keanu Reeves for the first time in almost 30 years. The movie, released in select theaters and VOD, has been well-received as a worthy follow-up to the first two films, Bill and Ted's Excellent Adventure and Bill and Ted's Bogus Journey.
The plot this time revolves around the now middle-aged slackers making one last attempt to create the song that will unite the world in order to stop the entire universe from disappearing. Along for the ride are their daughters, Billie (Brigitte Lundy-Paine) and Thea (Samara Weaving), who join them in their quest to avert disaster. The movie ends [spoilers ahead] with Bill and Ted creating infinite copies of themselves in order to get everyone throughout history to simultaneously play along to their song. Along the way, they meet a host of historical figures and familiar faces. And in one early draft, there was an additional familiar face.
Related: Co-Writer Ed Solomon Interview: Bill & Ted Face the Music
Solomon posted a script page from an early draft of the film on Twitter, which features the pair, and their wives, talking to Santa in his sleigh. Solomon says that the idea was that instead of replicating themselves, Bill and Ted would have asked Santa to assist them in delivering instruments to everyone on earth in one night. The scene ends with them all playing air guitar together after Santa has agreed. You can see the tweet, and script page, below:
The idea is quite fun, and the scene certainly wouldn't have been out of place in a franchise where the stars have met Napoleon, Death, traveled to hell, and fought off an emotionally insecure, time-traveling robot, to mention just a few. But you can see why the idea was changed, given that using Santa to solve their task seems like a cop-out, even for the notoriously lazy pair. Additionally, filming the four characters flying in Santa's sleigh would likely have added to the already meager budget.
But it admittedly would have been fun to see Santa playing air guitar, most likely a first in cinema history. The change ended up being a positive, with the current uplifting ending (also changed from the more sad one originally planned) providing a fitting close to the journey that Bill and Ted go on, from confused high school students to proud fathers. Still, though, it would have been "totally excellent" for audiences to witness Santa rocking out in Bill and Ted Face the Music.
Next: Bill & Ted Face The Music Ending Explained: What is the Perfect Song?
Source: Ed Solomon/Twitter