Read Time:
2 Minute, 24 Second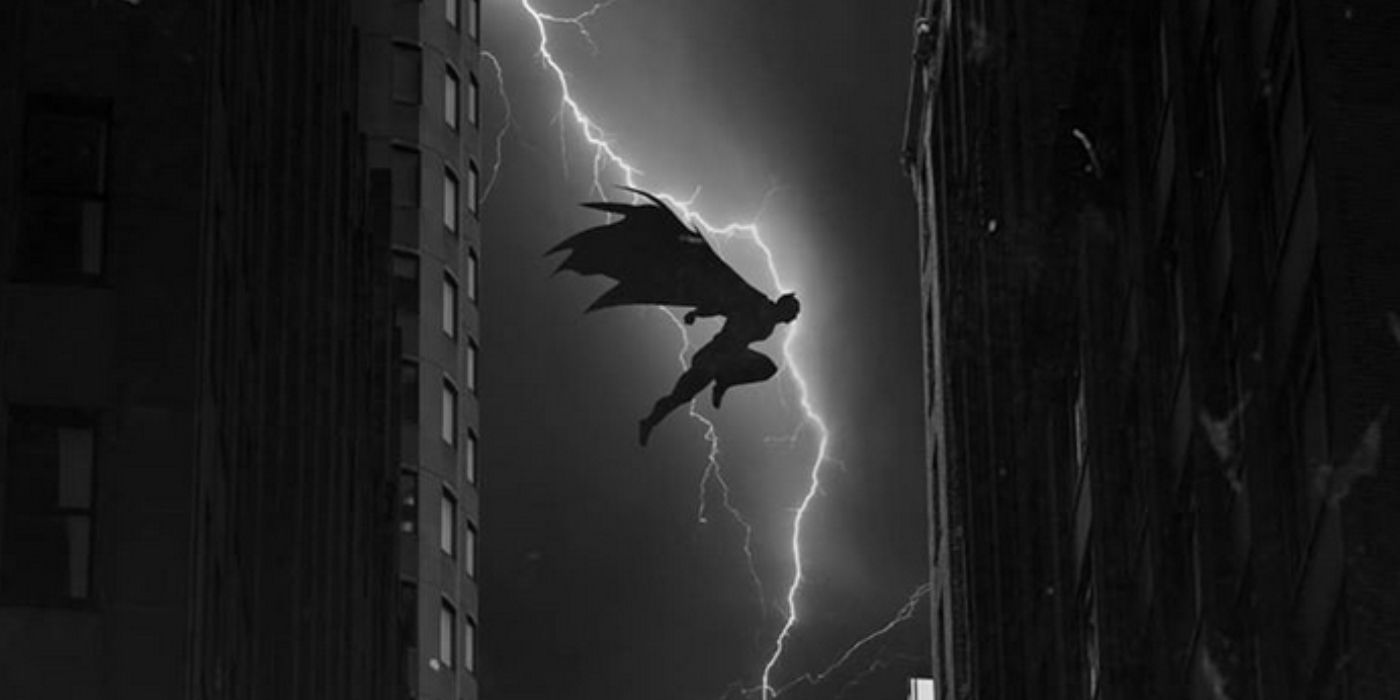 A stunning fanmade poster for The Batman calls back to the cover of The Dark Knight Returns comic book. The upcoming film is set to reboot the Dark Knight yet again on the big screen, with Robert Pattinson donning the cowl and Matt Reeves (War for the Planet of the Apes) directing. Production of the film came to a halt in mid-March due to the COVID-19 pandemic and had just recently started back up when, earlier this month, Pattinson tested positive for coronavirus. The actor has since recovered, thankfully, and the production, which is 25% completed, has resumed in full swing.
Details are still hard to come by regarding the film's plot. From sparing glimpses at the rogues' gallery, we do know that Pattinson's Batman will come up against Zoe Kravitz's Catwoman, Colin Farrell's Penguin, and Paul Dano's Riddler, who appears to be the film's main villain. The first trailer for the film features the Riddler's brutal murder of the Gotham City mayor, indicating a dark theme in line with the Christopher Nolan entries in the Batman film canon.
Related: Why Riddler's Plan In The Batman May Involve Bruce Wayne
Melbourne, Australia-based artist and art director Nikolai Baslajik, who goes by Kode (@bosslogic on Instagram), created this electric piece of fanart. Combining digital art and graphic design, Baslajik frequently posts inventive and often humorous mockups featuring everything from Fall Guys dressed as the Avengers to Norman Reedus's character from Death Stranding delivering an ever-elusive PS5. This particular piece, captioned simply "Vengeance," was posted in celebration of September 19 as Batman Day, a yearly promotional event during which DC fans celebrate the Caped Crusader.
The image features a silhouetted Batman leaping across the Gotham rooftops on a dark and stormy night, illuminated solely by a lightning strike that appears to streak right through his head. It's impressive in its own right, devoid of color and reminiscent of film noir, but its most intriguing facet is the callback to The Dark Knight Returns. The cover of the 1986 comic miniseries features similar imagery—Batman mid-leap, looking poised to come down on a foe with a flash of lightning silhouetting his body against a dull blue sky. Baslajik's piece shows Batman almost gliding at a distance.
Less of an action star and more of a mysterious force, the Batman in Baslajik's art falls in line with the direction of the character in the upcoming film. The Batman will reckon with the hero as a renowned detective, featuring a more thoughtful and clever Dark Knight than we've previously seen in the DCEU, starring alongside combative superheroes. Fans like Baslajik are just as eager to see Bruce Wayne back on the big screen whether he's wringing necks or wracking his brain.
More: The Batman Makes a Major Change to the Batcave
Source: Bosslogic/Instagram