Read Time:
2 Minute, 48 Second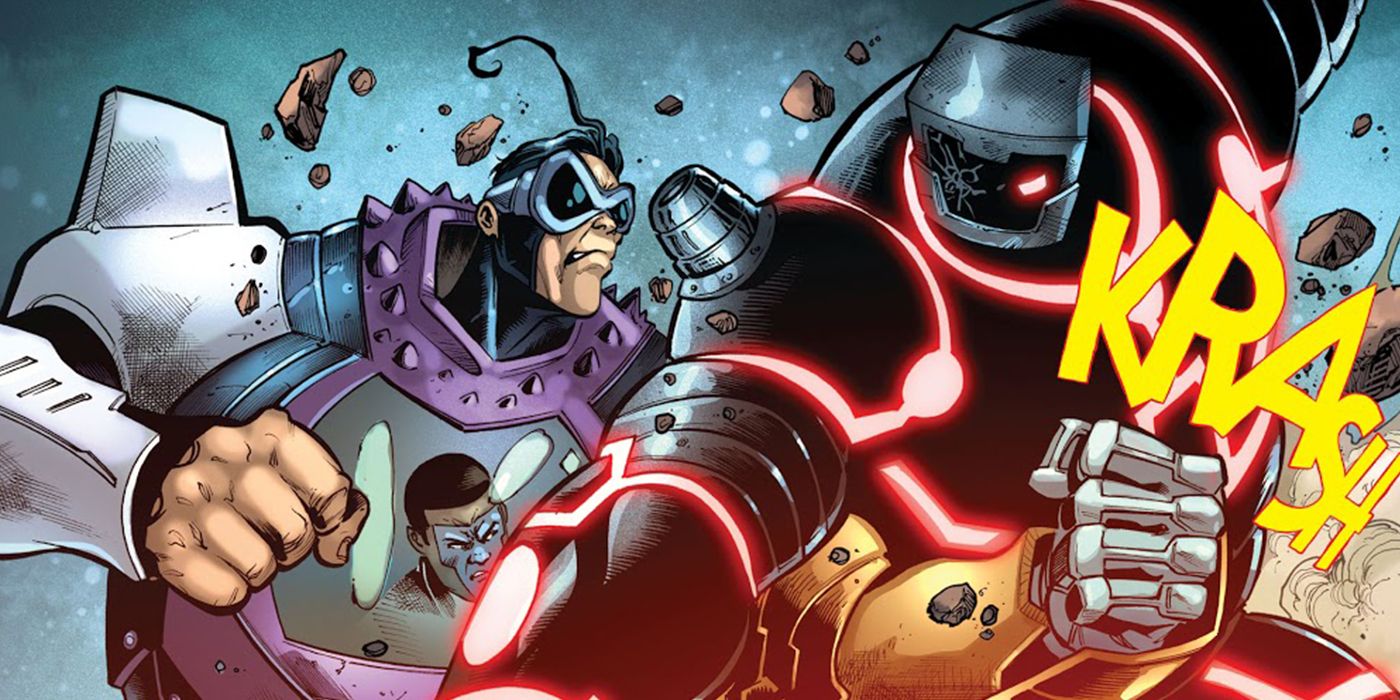 The following contains spoilers for Terrifics #30.
DC's Terrifics are a somewhat accidental team. In their battle against villainy they are bound together not by ordinary ties, but by Dark Multiverse Energy. However, this doesn't mean they can't work in sync. In The Terrifics #30, in fact, they work so closely together that they merge into a Power-Rangers-style Megazord to battle a giant robot.
For those not familiar, the Terrifics were formed in 2018. They consist of Mr. Terriffic (a polymath business tycoon with a lot of trauma), Phantom Girl (the intangible resident of another dimension), Metamorpho (a hero with the ability to transform into different substances), and Plastic Man (a nigh-invulnerable golden-age thief with the ability to stretch and morph the shape of his body). Through the machinations of Mr. Terrific's competitor Simon Stagg, they are blasted with Dark Multiverse energy. This binds the four of them together and prevents them from going too far from one another, lest they explode.
Related: Strange Adventures: Mister Terrific Isn't a Partner, He's [SPOILER]
In the Terrifics #30 by Gene Luen Yang, Sergio Davila, Vicente Cifuentes, Protobunker, and Tom Napolitano, Stagg's son (Sebastian Stagg) is extorting Gateway City by threatening it with a rain of Parasite heads. Believing the Terrifics to have been neutralized by Lobo, he is put on the defensive when they start foil his plans. Stagg hides inside his robot bodyguard Staggatron, who proves immune to the blasts from Mr. Terrific's T-Spheres. Mr. Terrific, as always, has a solution: Plastic Man and Metamorpho merge together to form another giant robot, which Mr. Terrific pilots. After a very brief battle, Staggatron explodes and Sebastian Stagg is captured.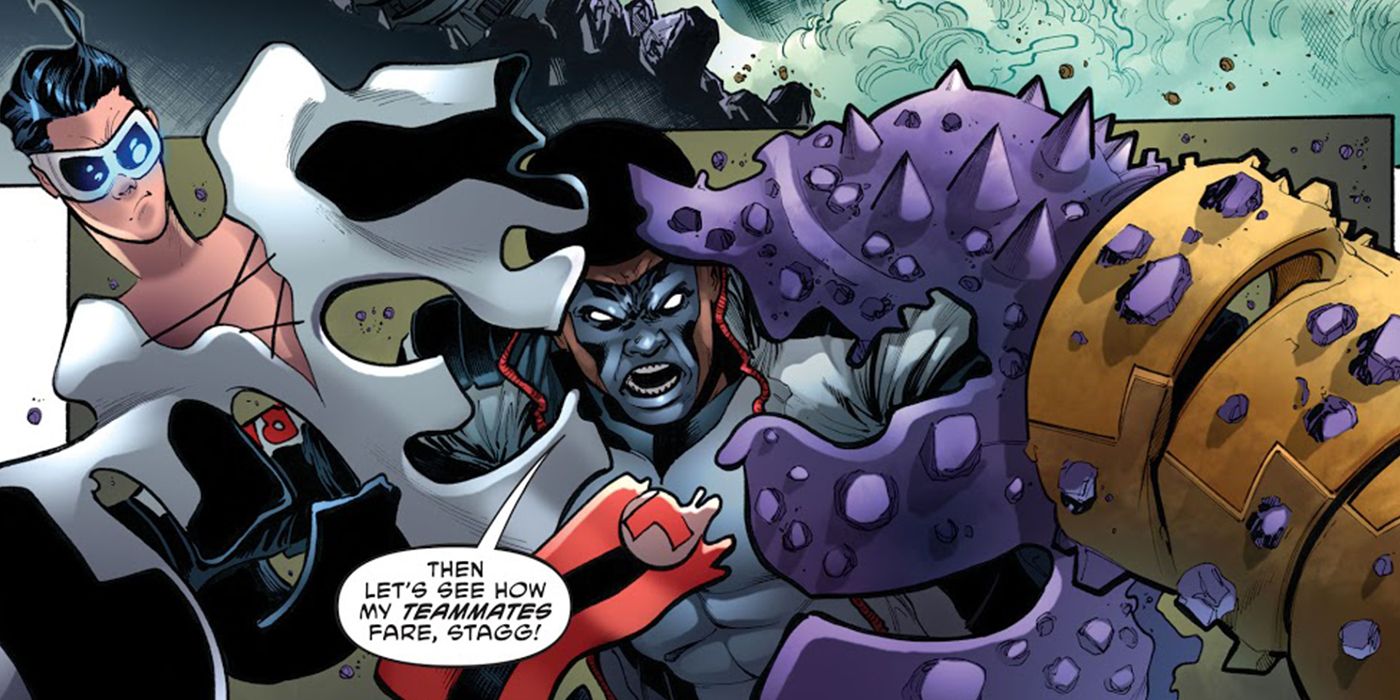 This move is reminiscent of fights in Kaiju such as Power Rangers. In Power Rangers, the heroes always attempt to fight hand-to-hand first. When the villain inevitably powers up, the Rangers merge their various Zords into a single Megazord.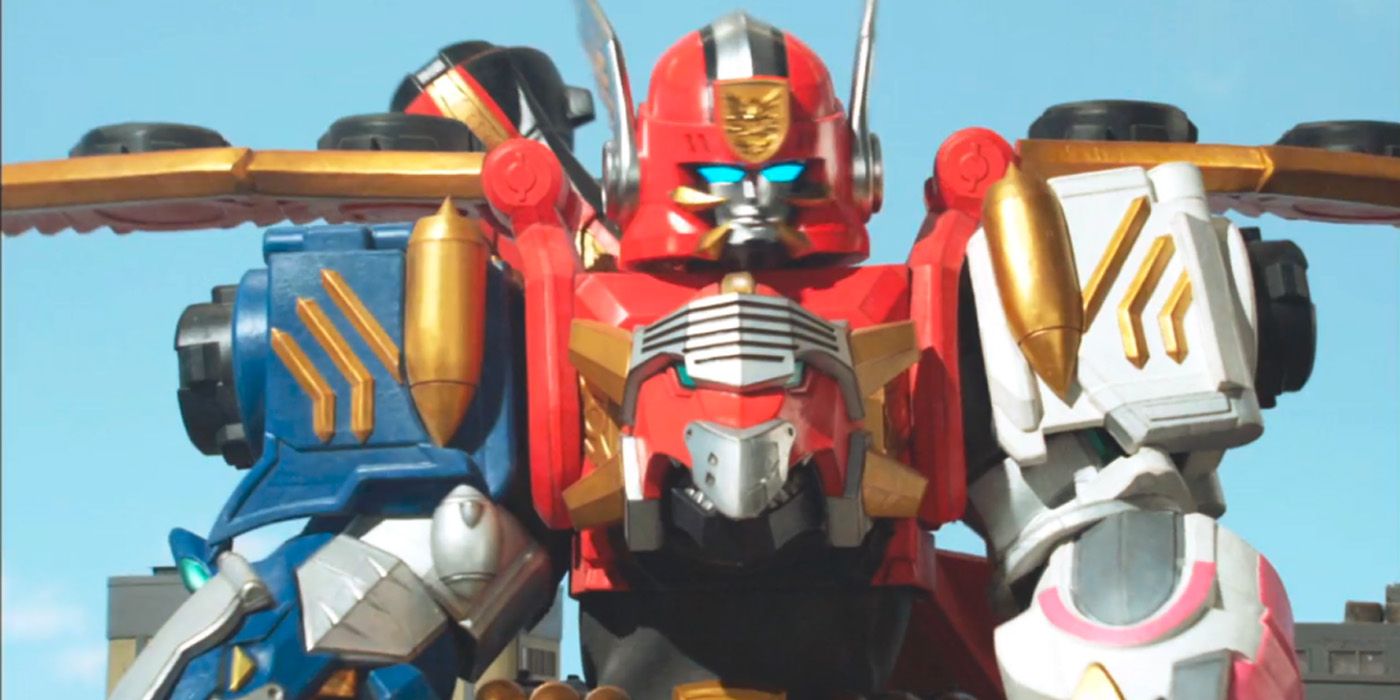 However, unlike Power Rangers, the Terrifics' mock Megazord doesn't provide a clear tactical advantage. There is no particular reason why Staggatron should be immune to T-Sphere blasts before they three heroes merge, but not after they have punched him a few times. One might argue that they are exploiting the crack in his visor created earlier in the issue, but the art doesn't show them aiming for said crack. The primary purpose of the Terrifics' Megazord seems to be that it just looks cool.
Still, it does demonstrate that this team of vastly different heroes is working together. Plastic Man is a wisecracking former criminal, Mr. Terrific is a dead-serious super-genius, and Metamorpho is a good-natured outcast. None of them would have chosen to work together without the Dark Multiverse bond, yet their involuntary team appears to have become a voluntary one. (Phantom girl, though not included in the Megazord, got her own moment of triumph earlier in the issue; she single-handedly rescued them all from drifting into the vacuum of space).
The Terrifics were created by DC as a pastiche of the Fantastic Four. Though not a family like the Fantastic Four, they appear to have become one. In fact, they just founded their own floating city-state, which seems to speak of domestic permanence.
Next: The Original POWER RANGERS Return in Their Own Comic Book