Read Time:
2 Minute, 14 Second
Power Rangers: Heroes of the Grid is a fun board game with a bunch of expansions with more and more being released. Renegade Game Studios has been kind enough to send me some of the expansions, and I'm wanting to take a look at each of these to help you know what to expect as you figure out the order for purchasing these expansions. Today, we're looking at the Mega Goldar Deluxe Figure. Before I start though, I should note that I have not been able to play with this expansion yet due to the ongoing pandemic limiting gatherings.
Mega Goldar is a new boss for your team of Rangers to bring down. However, he's different from Rita in a number of ways. First, he doesn't come out with any foot soldier minions because he's big. In fact, you actually have to remove any foot soldiers in Mega Goldar's space. However, this also means that his space is always panicked and considered full meaning the foot soldiers have one fewer space to occupy. This can really put some pressure on the Rangers.
Since Mega Goldar is alone, he's got to still be incredibly tough. You put out his six Component cards that serve as his attacks and they are rough. One thing to note is that the Lead Ranger gets to chose the order in which the Components resolve instead of the traditional left-to-right top-to-bottom manner. The only catch there is that Fast cards must be resolved before others. This does help give the Rangers some more flexibility in how they deal with Mega Goldar. However, there's more that the Rangers need to fear. Not only are the cards strong, but even after you defeat one of them, they have another effect that has to resolve each battle. The nice thing though is that any damage dealt to one of a Component carries over from battle to battle. I think this is their way of keeping things even remotely fair and doable.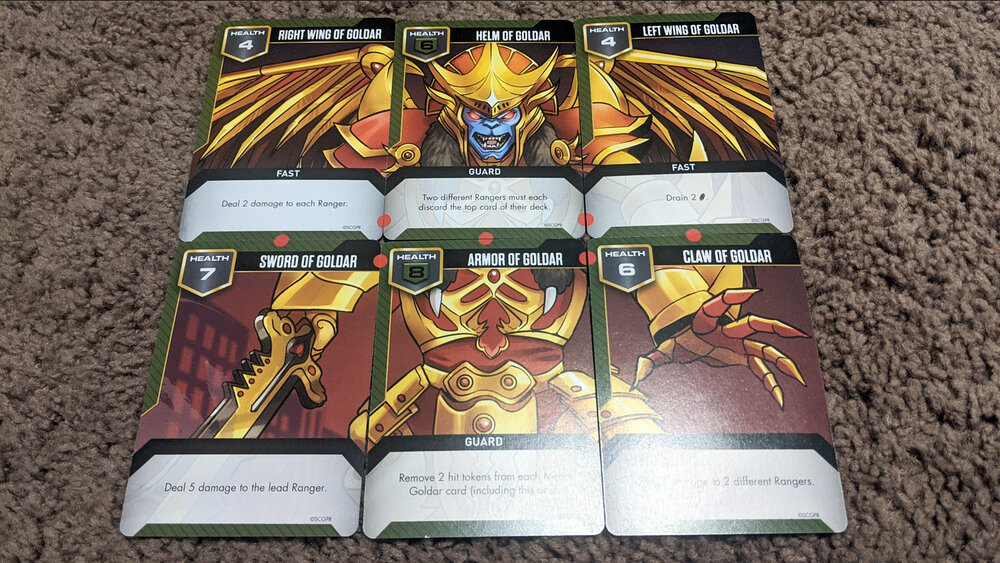 Of course, the best part of Mega Goldar is his figure. It is massive! I've included below an image of him next to a standard figure from the game. I cannot wait to paint him even though he's going to take so much freaking paint.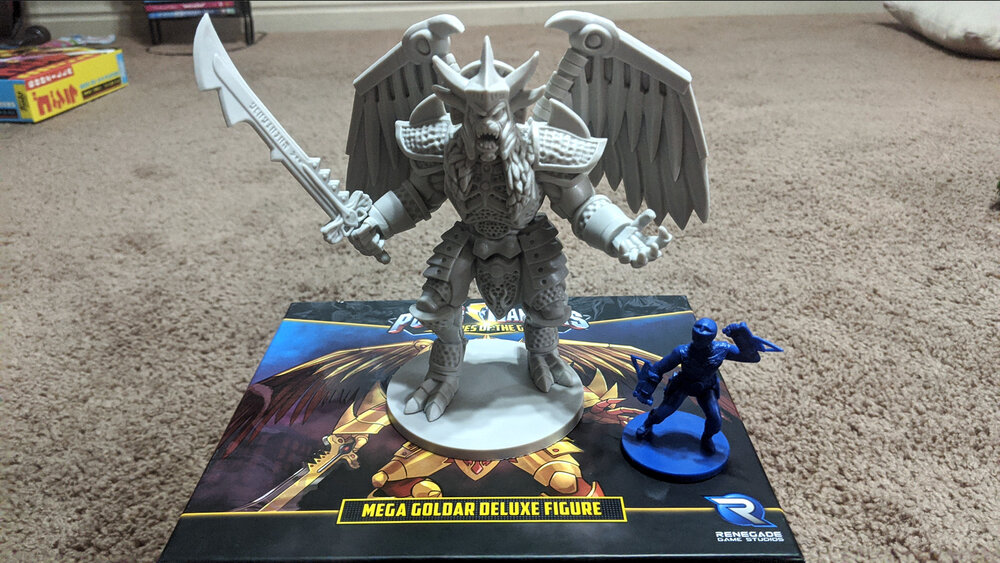 Mega Goldar looks like a lot of fun to play against when you're looking to switch things up. I'm particularly excited to switch things up since the only other boss I have is Rita from the base game. I cannot wait to give Mega Goldar a try!