Read Time:
2 Minute, 13 Second
It's October which means everyone is trying to run spooky adventures in Dungeons & Dragons. The most famous spooky adventure is Curse of Strahd and D&D recently re-released the adventure with Curse of Strahd Revamped. I was especially excited when they sent me a copy to look at since I've been running Curse of Strahd for several months and thanks to a recent TPK, the party is doing a bit of a reboot of the adventure. Well, I opened it up and I was instantly enjoying what came in the coffin.
First, you get a great piece of art of Strahd with his stat block on the back. Then, you get a softcover version of the book with some fixed text to not make the Vistani so racist, a booklet for the Tarokka deck, and a booklet for the different creatures that your party may encounter. You also get maps, postcards, an actual Tarokka deck, and a beautiful DM screen with very helpful information on it. If you don't have a DM screen, get one! The postcards are fun, but sadly I won't be using them any time soon as they work best when you're first starting the campaign as a way to invite your players.
My biggest complaint about Curse of Strahd Revamped is actually the Tarokka deck. One of my cards came slightly damaged (I'm sure this is a fluke) and they're not the size I expected. I thought that they would be your standard tarot size. That would make sense since they're basically tarot cards. Instead, they're jumbo sized playing cards. It was just a little disappointing to me.
Another sizable complaint is that some of the handouts from the adventure are on the same page. This makes it a lot harder to hand them out to players. You could cut those pages in half and it should work, but it also feels like you shouldn't have to do that.
Overall, I think that if you're wanting to start a Curse of Strahd campaign, you can't go wrong with the Revamped version. The adventure is the same, but the extra goodies you get are, for the most part, amazing. Honestly, the DM screen was a huge help to me with the random encounter tables included on it along with other common DM screen information.
You can purchase Revamped from your local game store as well as other outlets including Amazon.
View fullsize
View fullsize
View fullsize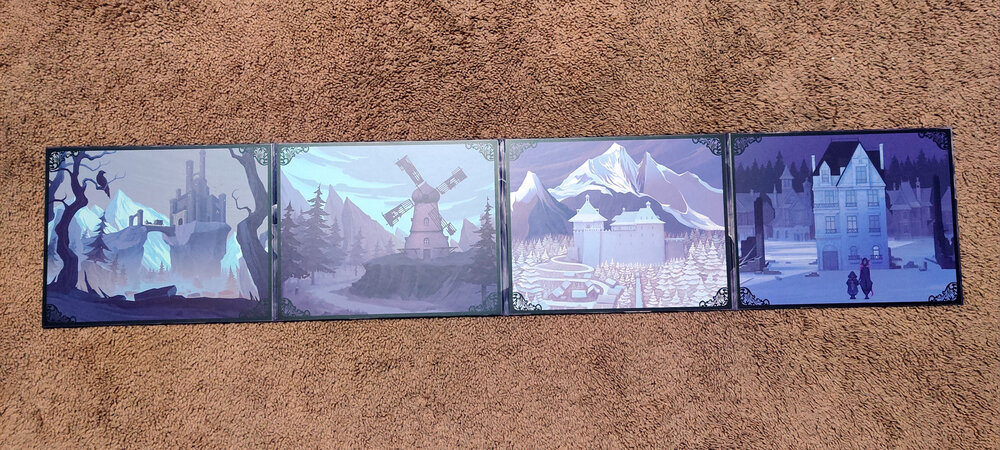 View fullsize
View fullsize
View fullsize
View fullsize
View fullsize
View fullsize