Read Time:
4 Minute, 2 Second
Last year, LEGO released an awesome Batmobile set from Tim Burton's 1989 Batman starring Michael Keaton. That was such a badass set, which I still hope to get a hold of one day. LEGO has now revealed another epic set inspired by Burton's Batman! This new set if of the Batwing and it consists of 2,363 pieces and will retail for US $199.99.
The Batwing set will be available for LEGO VIP members on October 21st. It will then be made available for everyone starting November 1, and will come with three minifigures of Batman, The Joker, and the Boombox Goon. The Batwing's cockpit opens and includes a variety of details inside, and LEGO says there are a variety of small Easter eggs planted throughout the set.
The LEGO model measures over 4" (11cm) high, 20" (52cm) long and 22" (58cm) wide. The set also includes a traditional stand for displaying the Batwing on a flat surface. The stand also includes the UCS-style info placard. You can also hang it on your wall if you want!
Check out the photos and additional details below. I hope I'm able to get my hands on one of these bad boys!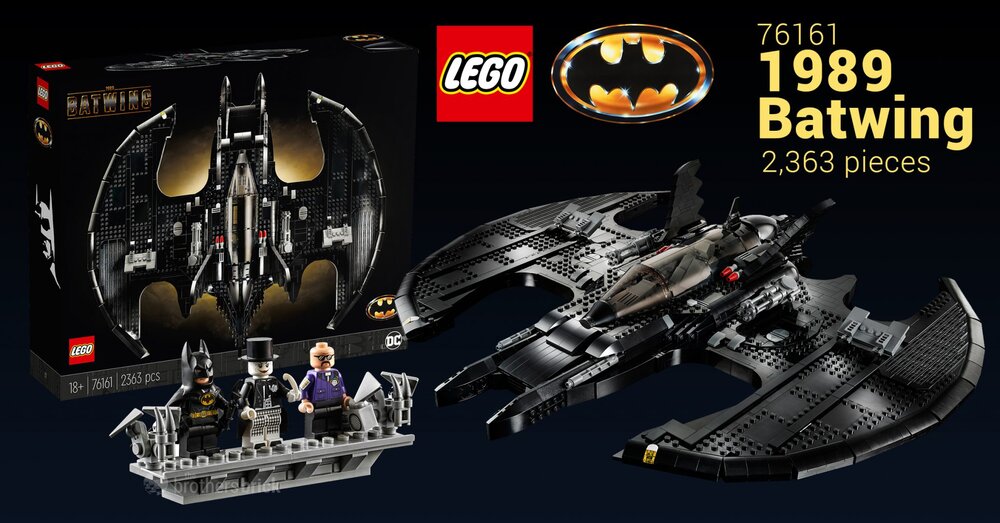 View fullsize
View fullsize
View fullsize
View fullsize
View fullsize
View fullsize
View fullsize
View fullsize
View fullsize
View fullsize
View fullsize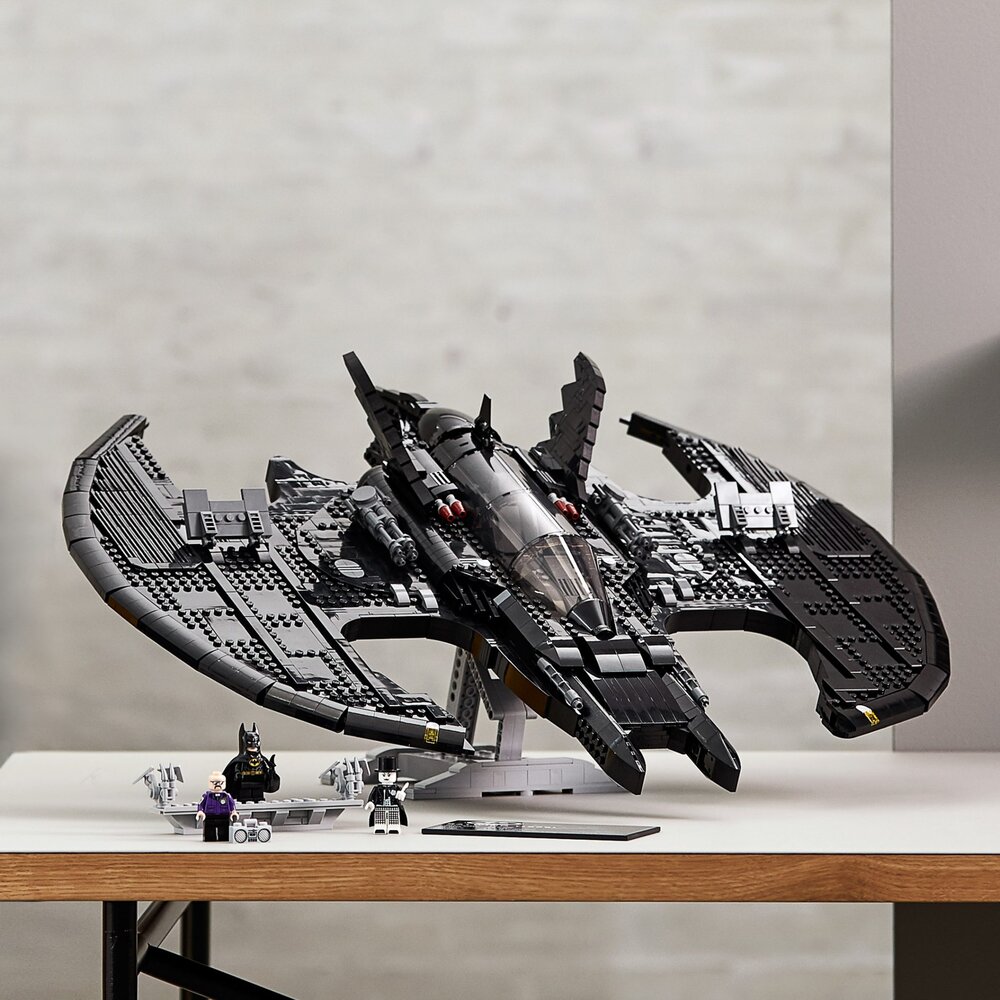 Here's the full press released:
WHERE DOES HE GET THOSE WONDERFUL TOYS?: THE LEGO GROUP LAUNCHES SHOW-STOPPING LEGO® DC BATMAN™ 1989 BATWING
Comic devotees and LEGO Brick fans are in for a treat, as The LEGO Group launches its latest Batman-themed set – available from 21st October from LEGO.com and LEGO Stores.
[19 September 2020] It may not soar to Gotham city, but the LEGO Group's latest release with Warner Bros. Consumer Products and DC, the LEGO® DC BATMAN™ 1989 Batwing, is sure to transport fans to their most memorable DC Super Hero moments this Batman Day. Fans of Batman and avid builders are in for some serious fun as they embark on their journey to construct the ultimate Super Hero vehicle in the LEGO® DC BATMAN™ collection.
The new LEGO® 1989 Batwing draws upon the design seen in Tim Burton's iconic 1989 BATMAN™ film, using the smooth lines and features from the original model to bring an impressive gothic elegance to any LEGO collection. DC and LEGO fans alike can indulge in their passion for the Caped Crusader as they explore all the delightful features of this new set, including a full interior, removable canopy and posable aerodynamic flaps. To add to the excitement, the construction kit is also dotted with Easter eggs to surprise builders, such as a screen featuring The Joker's gas balloons and a 'Bat Engine' label on the vehicle's engine – helping to truly transport builders back to 1989 and into the BATMAN universe.
Once completed, the 2,363-piece set is a real showstopper, measuring over 4" (11cm) high, 20" (52cm) long and 22" (58cm) wide. The construction set also features a special brick which allows builders to mount and display their model on the wall for added impact, making the LEGO® DC BATMAN™ 1989 set a wonderful addition to a Batman lover's LEGO collection, joining the previously released LEGO DC BATMAN™ 1989 Batmobile™ to make a dark and dramatic display in any home.
Speaking about the details of the new set, LEGO Creative lead Jesper C. Nielsen said: The emblematic set truly takes fans on a journey, as they immerse themselves into Gotham city and get hands-on with the set, using Batman, The Joker™ and Boombox goon minifigures to relive their favourite moments from the film. Fans can even create the infamous scene when The Joker barges in on the Dark Knight and utters his classic words "have you ever danced with the devil in the pale moonlight?".
The new LEGO® 1989 Batwing construction set is the latest example of how the LEGO Group aims to inspire builders of all ages to build, rebuild and get excited by the process of creation. A complex and rewarding build, the LEGO 1989 Batwing construction set allows builders to relax as they escape from the real world and enter the Batman universe. Designed for those aged 18+, the new set will also feature the new stylish packaging designed to reflect the sophisticated nature of the creative process.
All new products in the LEGO Group's ranges that appeal to adults will now feature the sleek, minimalistic new design across related packaging, building instructions, exclusive content and in-store and online store design.
LEGO® 1989 Batwing will be available for LEGO VIP members from 21st October and for remaining LEGO fans from 1st November, directly via LEGO.com and LEGO Stores.