Read Time:
1 Minute, 34 Second
It looks like AMC's flagship series The Walking Dead is going to be coming to an end. Earlier this morning IGN shared the news on its Twitter page saying:
"The Walking Dead has been renewed for a 24-episode 11th and final season, ending in 2020."
They also ent on to reveal that AMC has greenlit a spinoff series that will focus on Daryl Dixon (Norman Reedus) and Carol Peletier (Melissa McBride). That new show is set to premiere in 2023.
This is the Tweet that IGN posted and then deleted because they obviously weren't supposed to share it. But, this is the internet and it's out there now!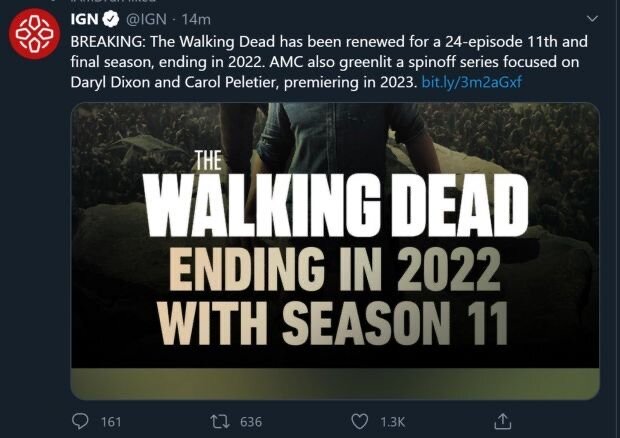 So, while the main series is coming to an end, we have this new spinoff series coming as well as The Walking Dead films that will center around Rick Grimes and his new adventures.
AMC President, Sarah Barnett, previously said that she thinks "there are endless stories to be told in this universe," so there may even be more spinoff shows in the works to tell these stories.
There's no reason given as to why the show is being canceled, but with the news breaking right now, I imagine it has something to do with the coronavirus slowing down the momentum of the show. The Walking Dead is the network's main stream of revenue and with the loss of money this pandemic has caused, it might have forced them to have to start over with a smaller budgeted show, hence the Daryl and Carol spinoff.
So, while the main Walking Dead series is coming to an end, the story will continue with two fan-favorite characters.
What do you think about The Walking Dead being canceled and the new spinoff series?
The Walking Dead Season 10 finale airs on October 4.
Via: Dexerto