Read Time:
4 Minute, 2 Second
The beloved story of The Wizard of Oz is getting a pretty awesome reimagining in an upcoming new comic book series titled The O.Z. It pretty much reimagines the story in a crazy Mad Max-style setting The Hurt Locker thrown into the mix.
The O.Z. is a comic series that comes from writer David Pepose (Spencer & Locke) and artist Ruben Rojas, and this is a description of the story:
Decades ago, when a young girl defeated the Wicked Witch of the West, she said farewell to the magical land of Oz… but unwittingly plunged the country in a vicious power vacuum leading to years of brutal civil war. But a generation later, the name of Dorothy Gale lives on in her granddaughter, an Iraq war veteran grappling with disillusionment and PTSD — yet when a tornado strikes Dorothy's quiet Kansas town, this former soldier finds herself in the war-torn battlefield known only as The O.Z. Forced to navigate warring factions led by the Tin Soldier, the Scarecrow, and the Courageous Lion, Dorothy must come to terms with her legacy and her past if she ever hopes to bring peace to the Occupied Zone.
This is a pretty cool concept and you can see a preview of the 44-page first issue below. When talking about the project, Pepose said:
"After my work on Spencer & Locke, I wanted to try my hand at fantasy, but anybody who's read any of my previous work knows that I never write anything straightforward. I wrote down a list of fantasy stories from my childhood, Lord of the Rings, Lloyd Alexander, Piers Anthony, and the Wizard of Oz. That last one started an itch in my brain. The word 'Oz' felt so short and so iconic, but what if it was an acronym for something? I thought of 'The Occupied Zone,' and it was like lightning struck. I realized this wasn't just a fantasy story, but a war story."

"Because at the end of the day, when you look at what the story we've told for The O.Z., it makes sense within L. Frank Baum's original Oz mythology. Dorothy Gale kills two Wicked Witches, convinced the Wizard of Oz to move on, and then… goes home. While pop culture might paint this as a happy ending, I grew up during the Invasion of Iraq. I know that when you take down a dictator without warning or a plan, it's a recipe for a power vacuum and sectarian violence. And in the case of The O.Z., it becomes all too fitting that Dorothy Gale's granddaughter and namesake is an Iraq war veteran. Magical or not, this new Dorothy has seen this kind of battlefield before and will have to confront her own traumas if she wants to survive the Occupied Zone."
Pepose went on to talk about the beloved characters in the story such as the Tin Man, Courageous lion, and Scarecrow. These characters have all gone in different directions since Dorothy left and they now support or lead different factions vying for control in the land of Oz.
"Tackling these characters has been such a blast, even beyond reimagining Dorothy as a haunted soldier looking to make things right. The Tin Soldier, for example, has been destroyed and rebuilt so many times that he's turned into this towering war machine freedom fighter — but he's the guy who wanted a heart. What happens to that guy when he's watched his friends die in front of him over and over again? Or the Scarecrow. This is someone who wanted a brain. What does that mean for someone who's hinged their entire persona on being smart when he can't solve this equation? And the Lion is one of my favorites. His story has a lot of parallels with Dorothy, about legacy, but also about the moral calculus of bravery and war. It's easy to fight for just yourself, but what happens when you're the ruler of the Animal Kingdom? Or in Dorothy's case, the granddaughter of a legend?"

"There's a lot of fun angles we've taken in this story that feel fresh and different, but still ring true to L. Frank Baum's original characters. You might think you know the Wizard of Oz, but this is the story of what comes next. Become a Yellow Brick Road Warrior today, and join us in the trenches of The O.Z."
Pepose has already written the entire series, and there are plans to develop future issues. The comic is being funded on Kickstarter, and you can head over there for more information.
View fullsize
View fullsize
View fullsize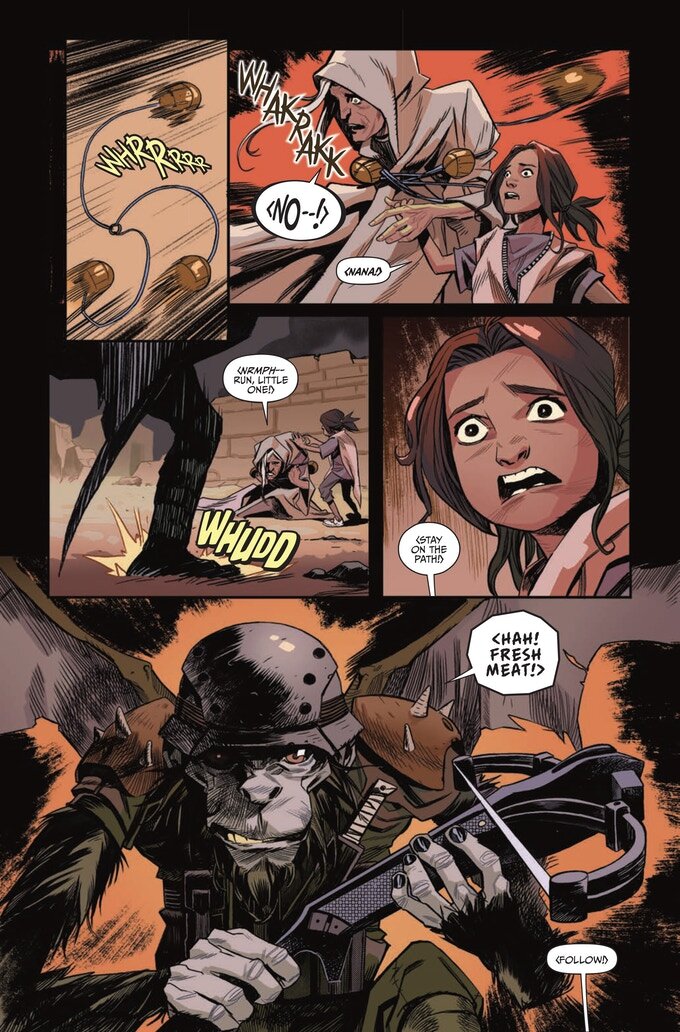 View fullsize
View fullsize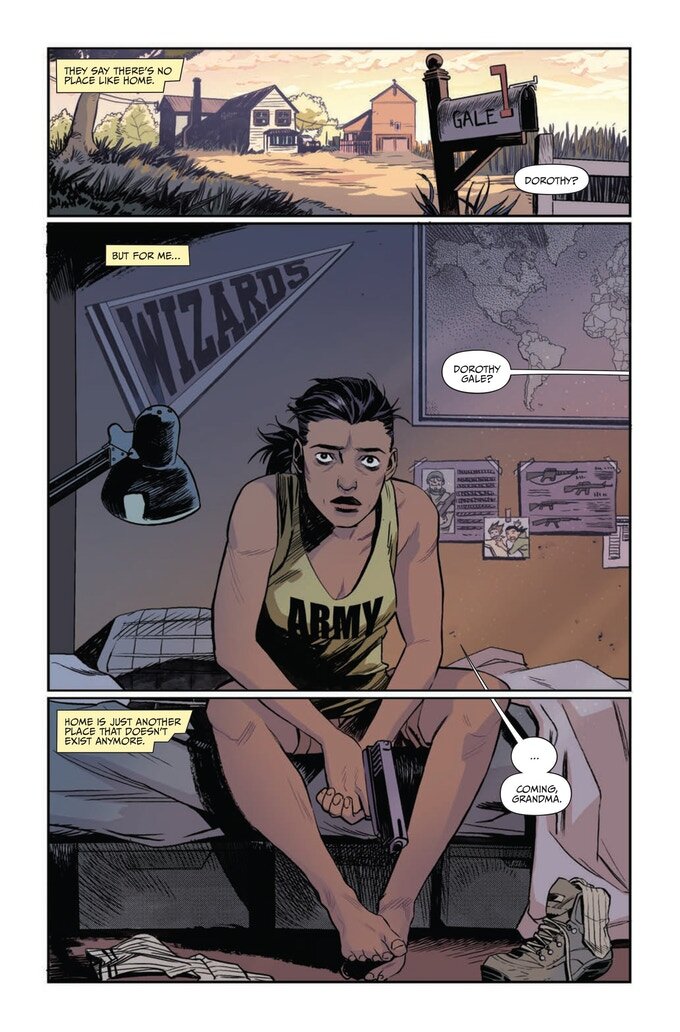 View fullsize
View fullsize
View fullsize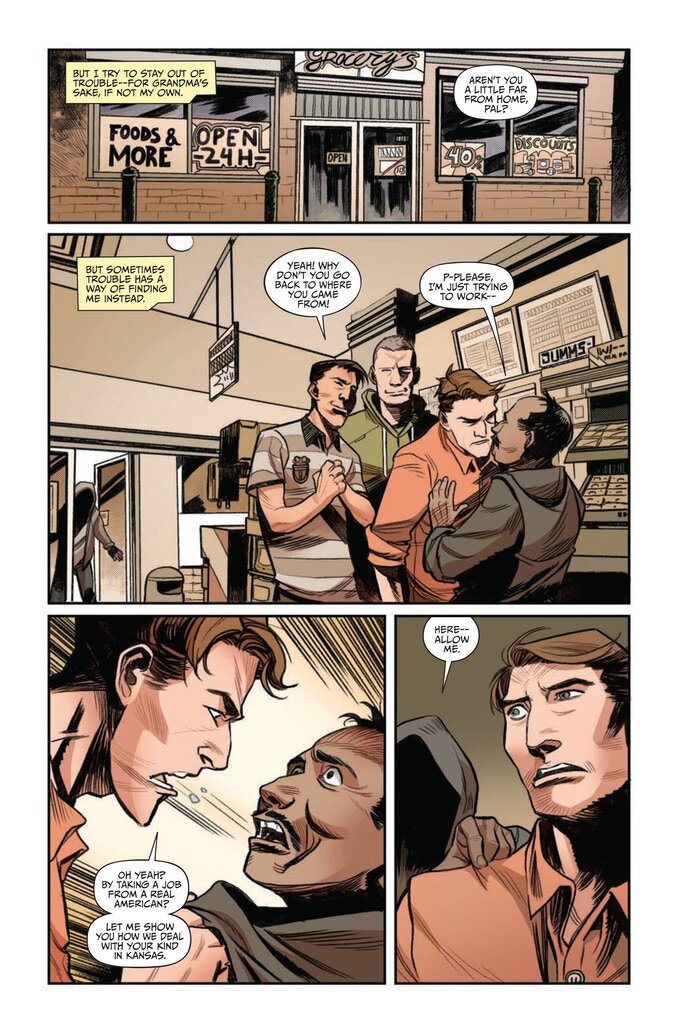 View fullsize
View fullsize
View fullsize
View fullsize
Via: CB